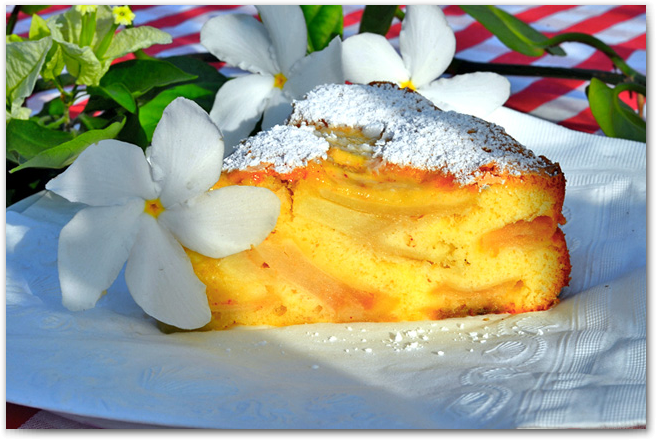 2-3 apples,
1 cup flour (240ml cup),
1 cup fine white sugar,
3 large eggs,
Pinch of salt,
1/2 tsp cinnamon,
1/2 tsp vanilla essence,
1 tablespoon starch (optional),
Powdered sugar for dusting (optional).
I tried many different recipes for Charlotte, but none of the recipes were tested a second time. Just recently, quite unexpectedly, I came across a blog with the easiest recipe for Charlotte in the world! According to the author, the combination of 1 cup of sugar, 1 cup of flour and 3 eggs is ideal. Plus 2-3 apples or pears, and a pinch of salt. This by itself is beautiful, but to experiment with the taste, you can add starch to the flour, and/or cinnamon. You can add to the batter with vanilla essence, and the apples can be replaced with pears or with peaches. You can add nuts, reduce the sugar, etc.
This Apple Charlotte turns out very tender and homely, and is cooked very quickly – 5 minutes. Kneading the dough and cutting the apples takes 30-40 minutes.
Ingredients: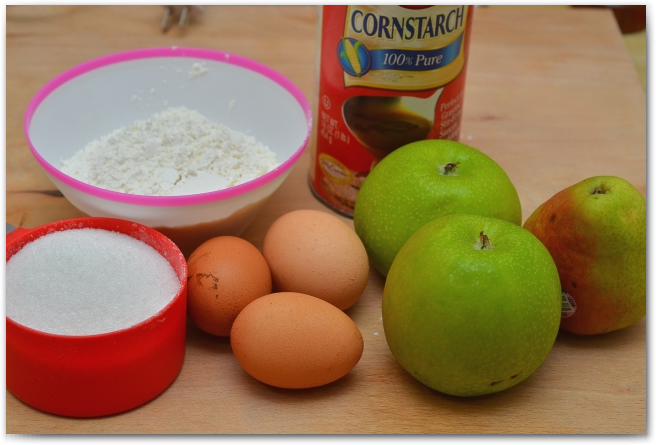 Cooking instructions:
1. Preheat the oven to 180 degrees Celsius.
Mix the flour, salt and cinnamon. If you're adding starch, do this now. I tested this recipe with and without starch, and to be honest, I preferred it without starch.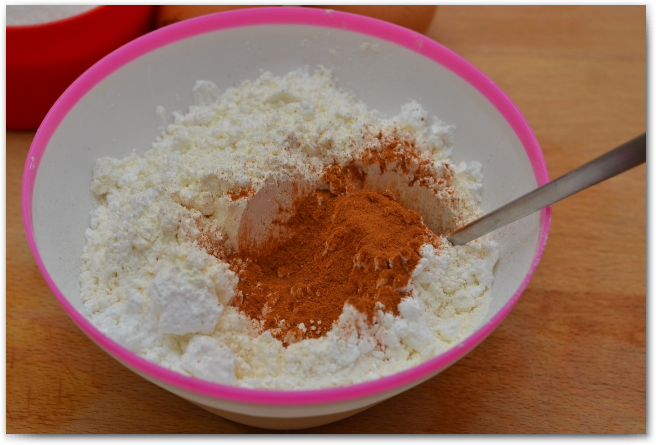 2. Beat the eggs and sugar until the mixture is slightly expanded, this can take 3-4 minutes with the whisk.
3. Gradually add the egg mixture to the flour mixture, continue beating until smooth.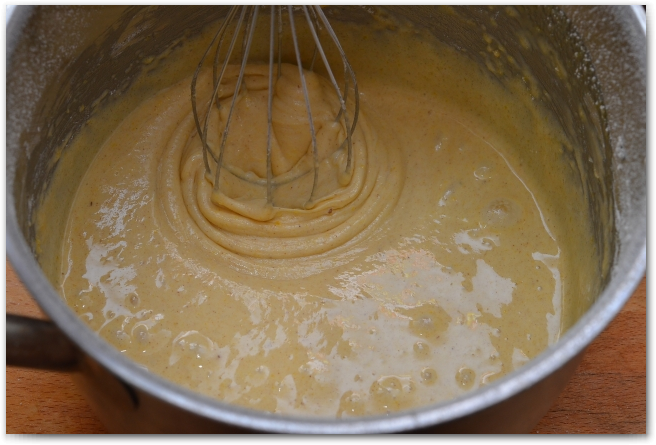 4. Peel and cut the Apples or Pears into cubes or slices, as shown on the photograph. Whichever you like best.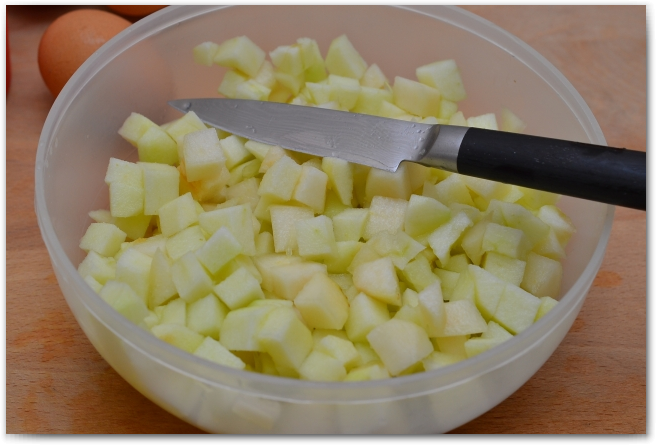 5. Grease the cake tin with vegetable oil, then sprinkle with flour. Fill the cake tin first with the apples, then with the batter.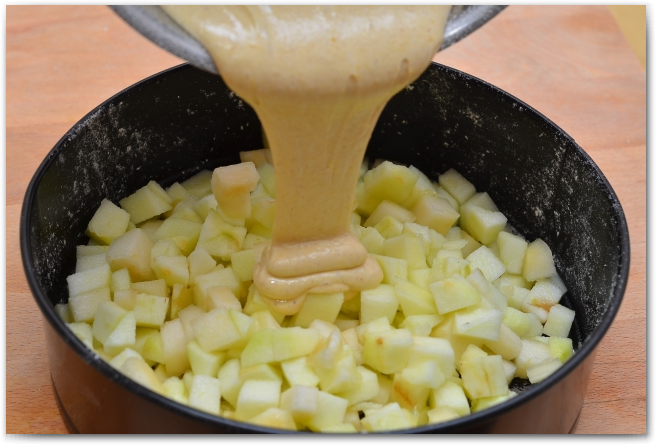 6. The dough should completely cover the fruit.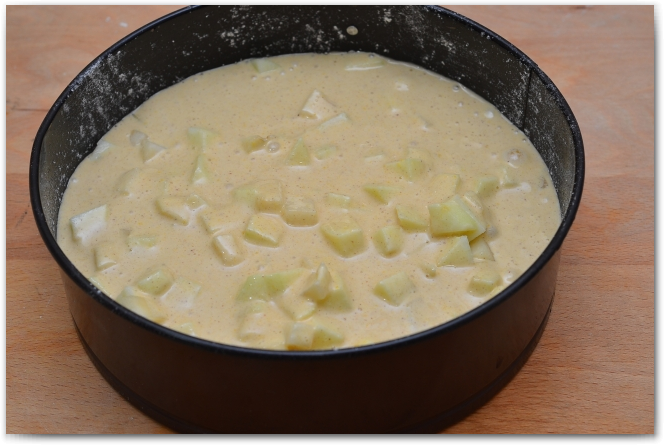 7. Bake in the oven for 30-40 minutes, depending on the kind of oven you have. The top should be well browned. Check with a toothpick or match whether your cake is ready.

8. We let the Apple Charlotte cool down a little, then remove it from the cake tin and sprinkle the top with powdered sugar, this being optional as well.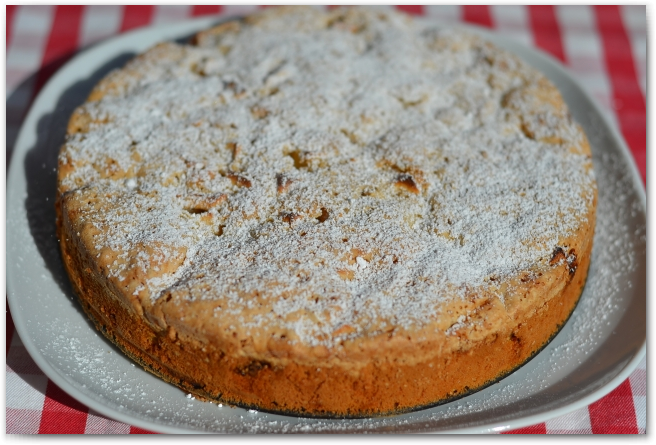 9. Next, invite the guests for morning tea. Treat them with a very tasty, soft and fragrant Apple Charlotte. Next time you can try baking it with pineapple. And since I'm a fan of simple recipes, this was one of my favourites. Baked quick and easy, and the result was absolutely stunning!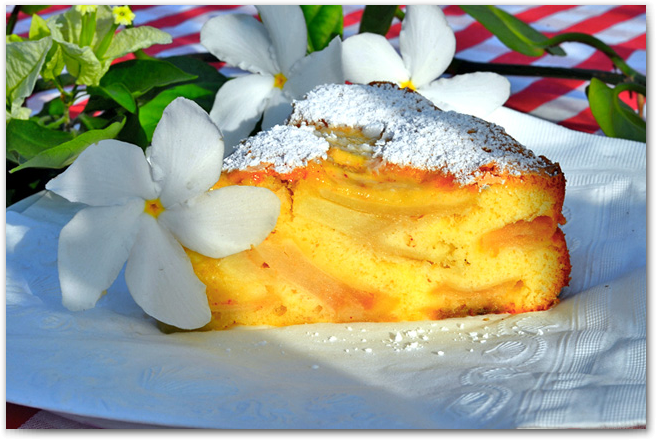 Bon Appetit!