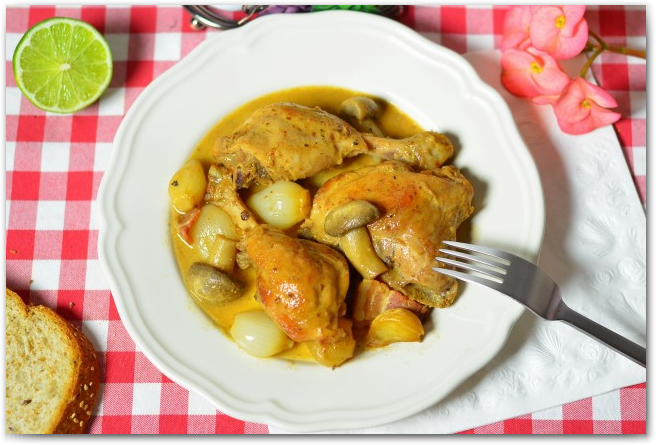 1.4kg chicken (leg quarters, or rabbit),
150g Dijon mustard,
75g butter,
125g bacon,
250g baby onions,
250ml dry white wine,
6 medium mushrooms,
100ml whipping cream,
1 tablespoon of lemon juice,
3 cloves of garlic, raw,
Bouquet garni:
1 sprig of thyme,
3 sprigs of parsley,
1 bay leaf.
I found this recipe in Paul Bocuse's book "Bocuse in your Kitchen". It contains many simple, but traditional, French recipes. The original recipe says to use rabbit, however, there was a note saying the rabbit could be substituted for chicken. Since I do not eat rabbit, the chicken came in handy, which I, in turn, substituted with skinless chicken legs. The fresh dijon mustard is vital to this recipe, so it is better to buy a jar of it on the day you cook this dish. The preparation time is 40 minutes.
Ingredients: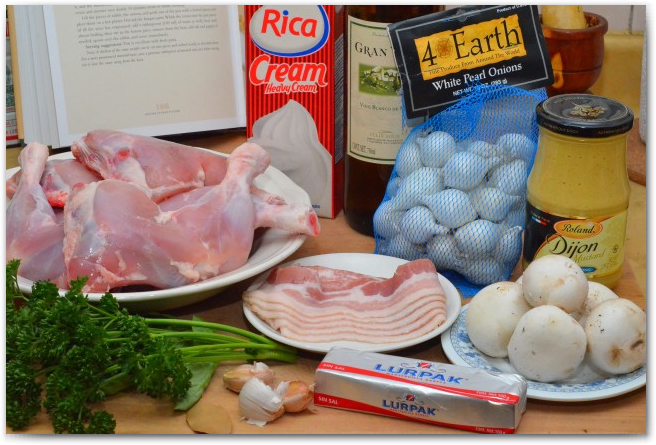 1. Salt and pepper both sides of chicken legs, cut in half.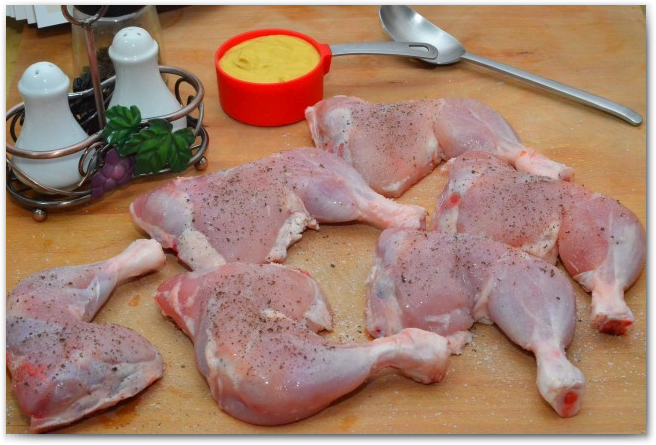 2. Use a spoon to coat all sides of chicken pieces with mustard. I used my fingers as well, it works better that way. (I ended up cutting the chicken legs after I covered them with mustard, it is better to cut them before hand.)

3. Melt the butter in a frying pan with high sides.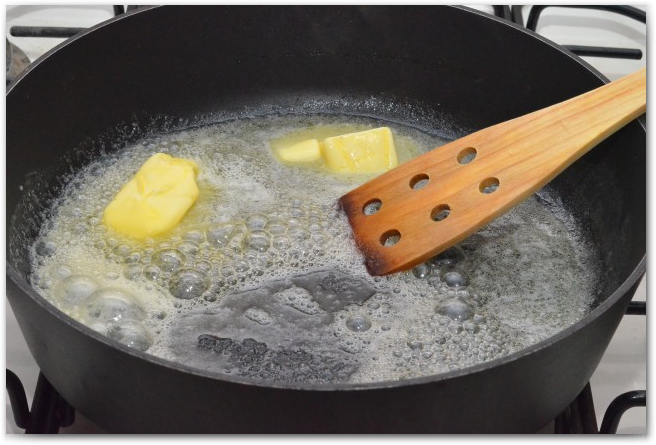 4. Cut the bacon, make a bouquet garni, clean the onions. Baby onions can be substituted for normal onions, but the taste is likely to be different, because the small onion has a soft, sweet taste to it. In the bouquet garni, I replaced the sprig of thyme with basil, which is also very nice.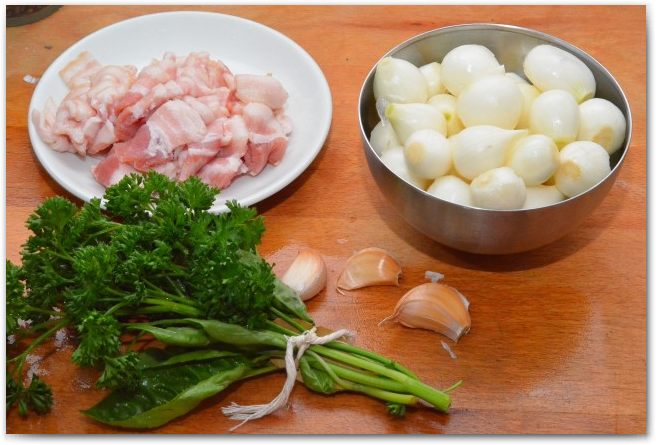 5. When the butter is completely melted, add the chicken to the pan, then the bacon, onions, bouquet garni and garlic. Fry over high heat for 20 minutes, stirring often.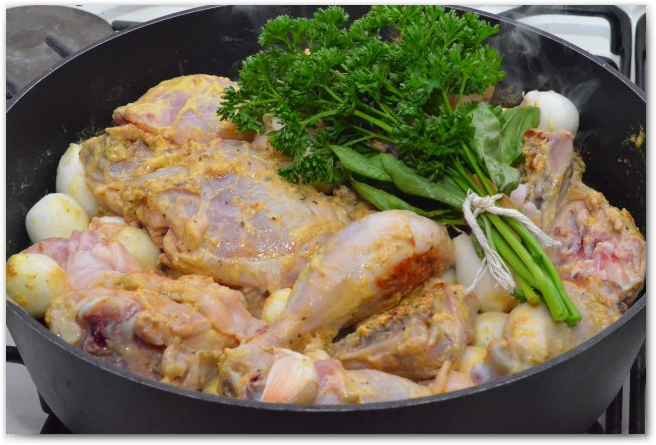 6. Add the wine, scrape the bottom of the pan so the the food comes off and the wine is mixed with the pan juices. The original recipe calls for a dry white wine, but a dry red will suit as well.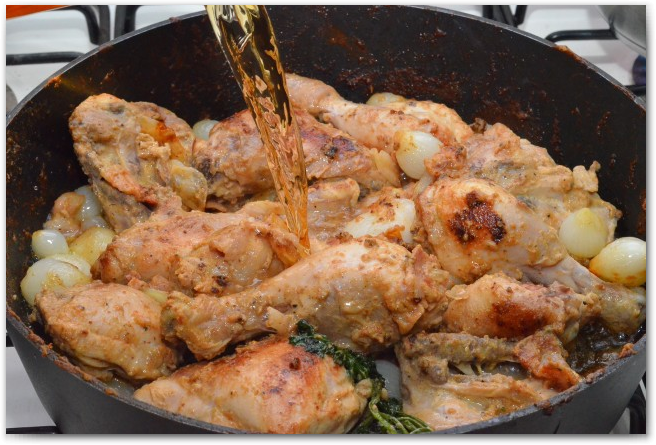 7. Add the mushrooms, cut into quarters. Simmer over medium heat for 10 minutes.

8. Reduce the heat, cover with lid and simmer for 15 minutes or until cooked.

9. Then, with a draining spoon, place the meat, onions, mushrooms and bacon into a deep dish. Discard the bouquet garni.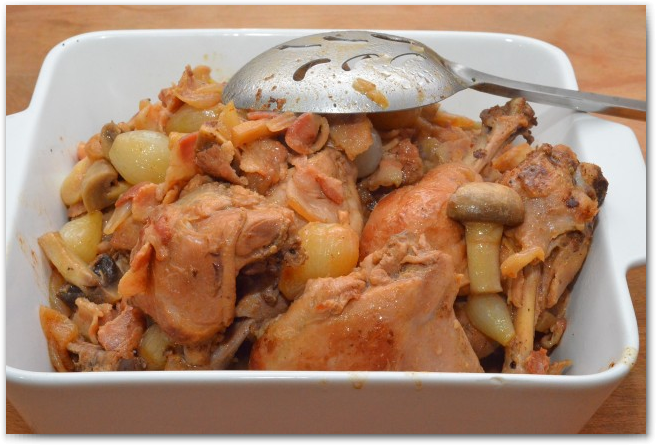 10. Pour cream into the remaining pan juices (if the wine has almost evaporated, add 100ml of water). Mix well, wait until sauce begins to boil, add lemon juice and immediately remove from heat. Add salt and pepper, if needed.

11. Pour sauce in a bowl and serve with meat. I added water and garnished. It was very rich, creamy and incredibly delicious!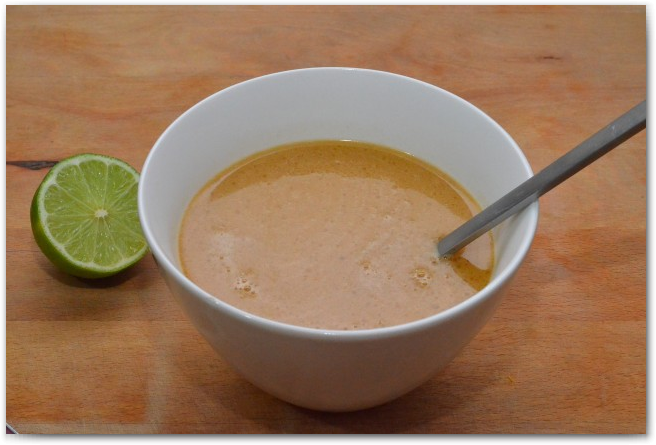 12. Voila! The meat turned out exceptionally tender with an incredible flavor. I really like it when a lot of different ingredients come together to create a complex, and at the same time exquisite taste. Paul Bocuse writes "This is excellent with fresh pasta" at the end of the recipe – and it is! Just imagine how good it tastes! I also had this dish with boiled potatoe, it was so good as well! I will add, that my personal food taster said, that there could be more mushrooms in this dish, but that is a matter of taste 😉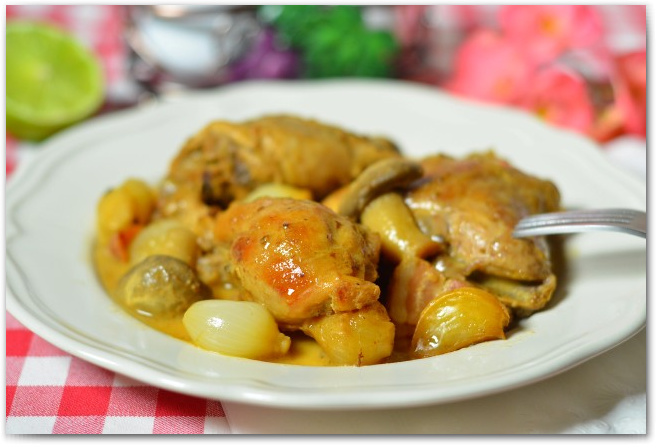 Bon Appetit!