Preparation time 35 minutes,
serves 4:
350g cauliflower,
30g butter,
1 tablespoon flower,
1 small onion,
3 cups milk (cup=250ml),
for garnish:
3/4 cup small cauliflower flowers,
1/3 cup vegetable oil,
3-4 slices of bread,
parsley.
This recipe is from the book "Le Cordon blue "Soups"". In France this soup is known as Potage a la du Barry. The dish was named after the mistress of French King Louis XV, the Countess Du Barry (Comtesse du Barry). Many cauliflower dishes were named in her honor.
Ingredients:

1. Cut cauliflower into small flowers. You should have 300g of large flowers and around 50g (3/4 cup) of small flowers. Put the small ones aside.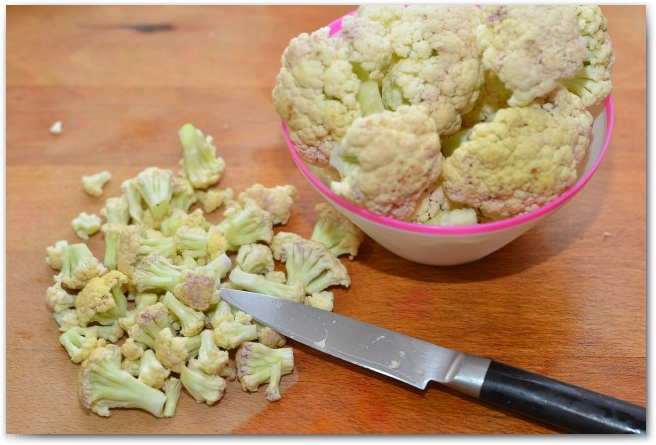 2. Put cauliflower in a pot with a wide bottom, pour in 1/2 cup water, and 1/2 cup milk. Put this on the stove, heat it to boiling, cover with a lid and turn down the heat to the lowest setting. Cook for about 7 minutes or until cauliflower is soft.

3. Mash this mixture, either with a hand blender, or with an ordinary blender. Put aside.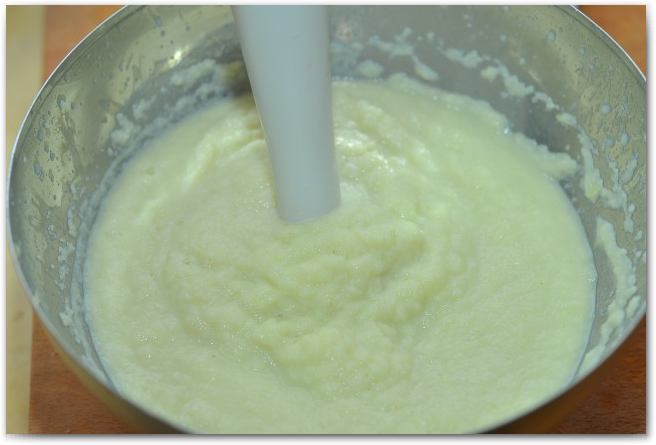 4. Cut onion.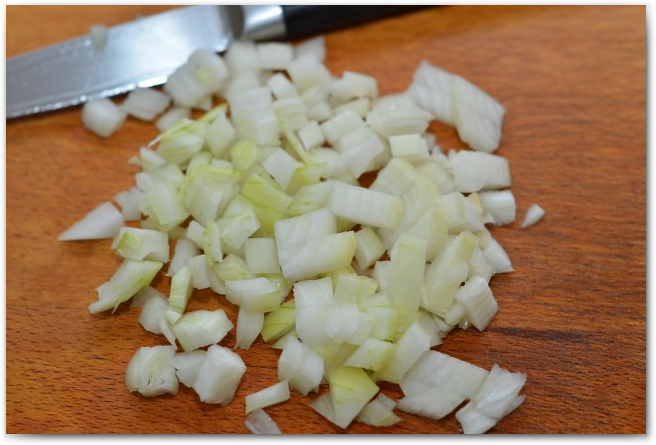 5. In a small saucepan over medium heat, melt butter, add onions, cover with lid, turn down heat to low, fry for 5 minutes until the onion is soft and translucent, but not burnt.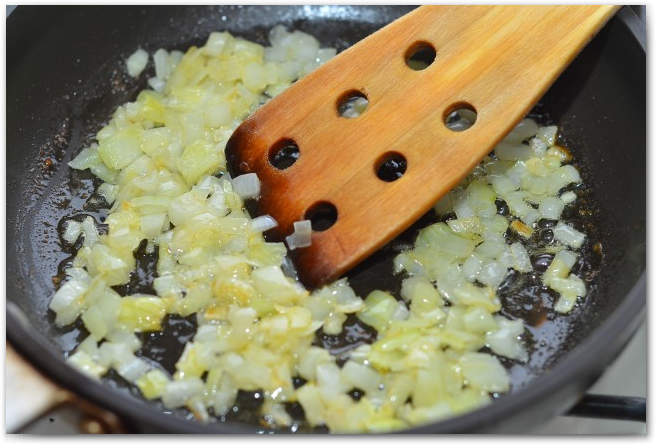 6. Making roux. Add flour to the onions, stirring quickly so the roux is smooth. We do not want lumps, the mass must be perfectly smooth, like cream, only with an onion in this instance.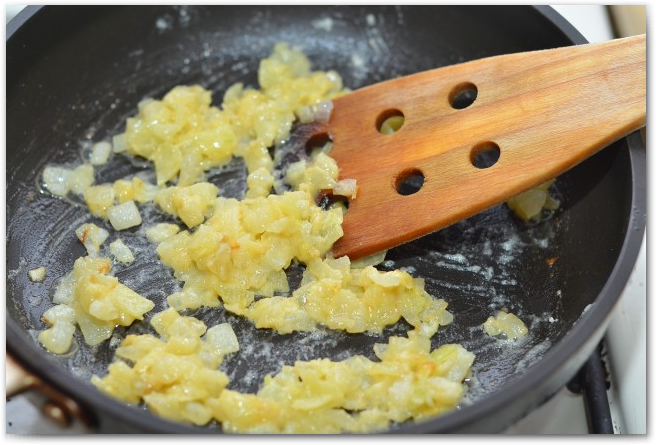 7. Add milk to the roux and mix well to avoid lumps, then bring this to a boil, add the cauliflower puree, and bring to a boil once more. Add salt and pepper, freshly ground pepper works best here. Remove from heat.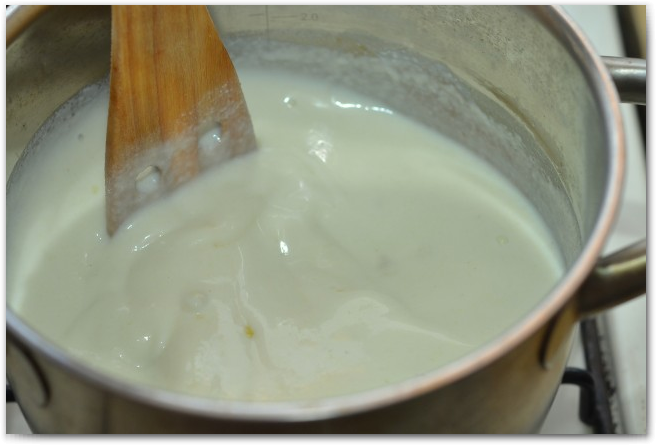 8. Now for the garnish. Add your small cauliflower pieces to boiling salted water, cook for 2 minutes or until soft, drain, and put aside.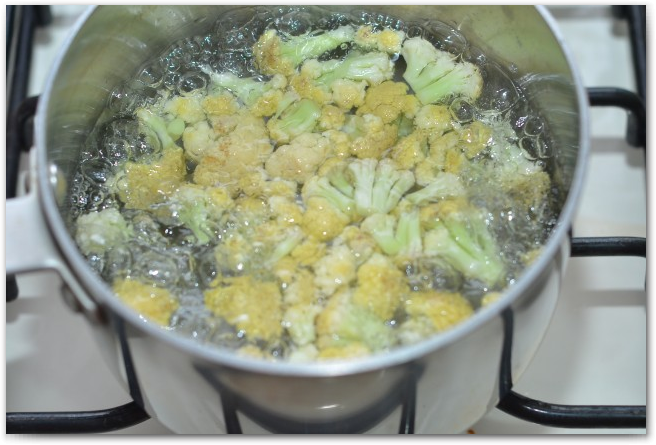 9. Cut bread into cubes, fry in vegetable oil until golden brown. Move them onto a paper towel and flavor with salt and pepper.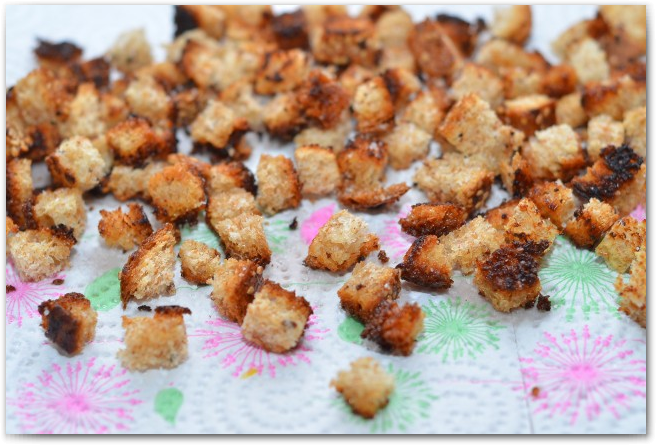 10. Voila! Your Royal cream of cauliflower soup is ready! When serving sprinkle with croutons, boiled cauliflower and parsley. This soup has a rich yet delicate flavor, and is not greasy like so many milky soups. You can use any milk, I used the 1.5% fat milk. So this is how you make a soup in half an hour. The result is simply gorgeous, and I can't help thinking about it again and again.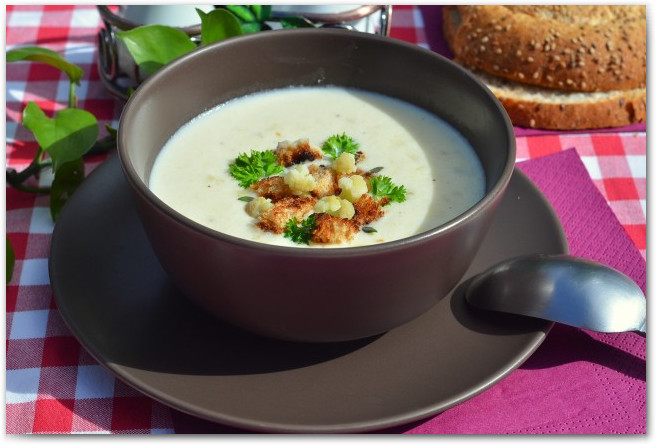 Bon Appetit!