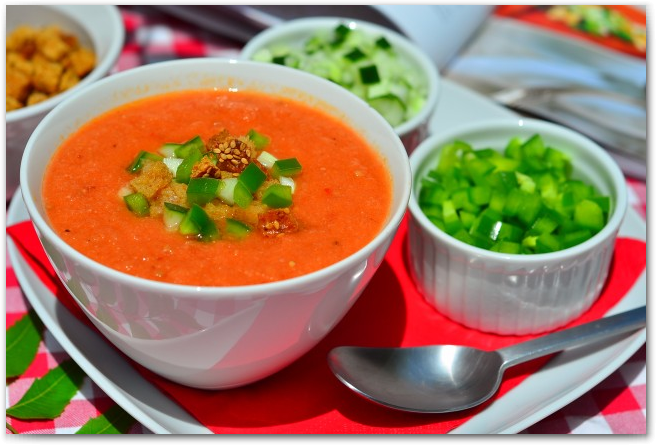 Preparation time 35 minutes + 2 hours for cooling,
serves 6-8:
1 cup fresh breadcrumbs (cup=250ml),
2 tablespoon wine vinegar,
2 cloves garlic,
3/4 long cucumber,
1 red onion,
1/2 red bell pepper (capsicum),
10 medium or 6-7 large ripe tomatoes,
1/2 cup (120ml) olive oil (extra virgin),
freshly ground black pepper,
salt,
for the garnish:
3-4 slices bread,
1/4 cucumber,
1/2 green bell pepper (capsicum).
Gazpacho is a Spanish dish that has ancient roots. Originating in Andalusia, it is a typical Mediterranean dish. This cold soup consists of many raw vegetables, the main ingredient being tomatoes. Gazpacho must include garlic and olive oil. There are many modern varieties of Gazpachos, which may include tomatoes and bread, add avocado, cucumber, parsley, peppers or sweet peppers, onions, vinegar, water or tomato juice, salt and spices, of course, beef, broth, seafood, grapes, and even watermelon. Plenty of options for improvisation! This recipe is from the book Le Cordon Bleu "Summer". It is highly recommended, and in the heat of summer this refreshing, summery and healthy soup will hit the spot.
Ingredients: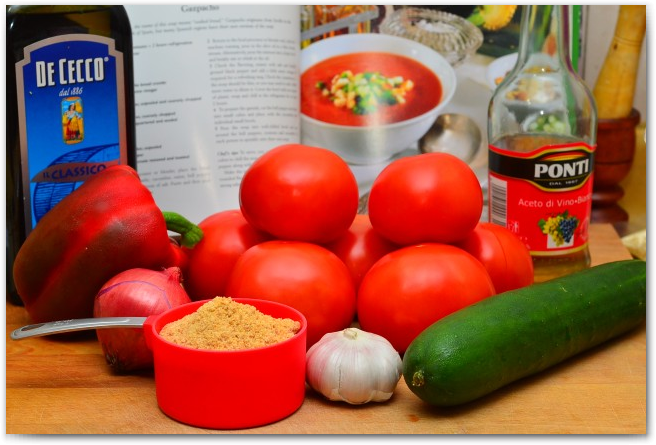 1. Skin the tomatoes: with a sharp knife, make crosswise incisions in the tomatoes and soak them in boiling water for a few minutes.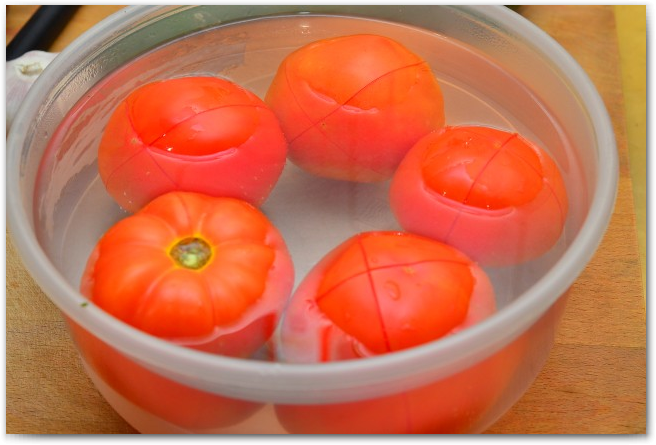 2. Peel cucumber. If it contains seeds, remove them with a tablespoon.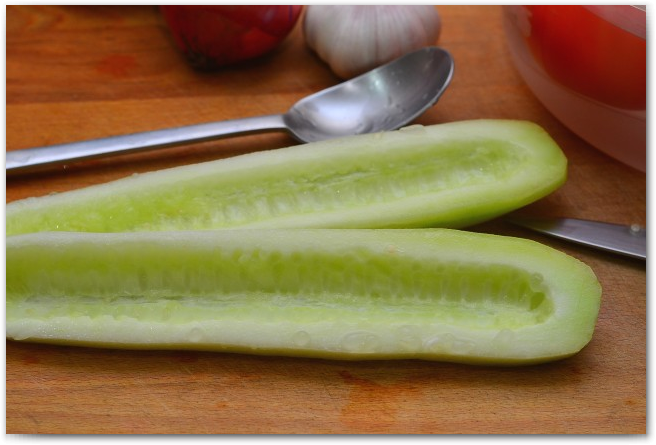 3. Carefully remove the skins from the tomatoes, remove the seeds.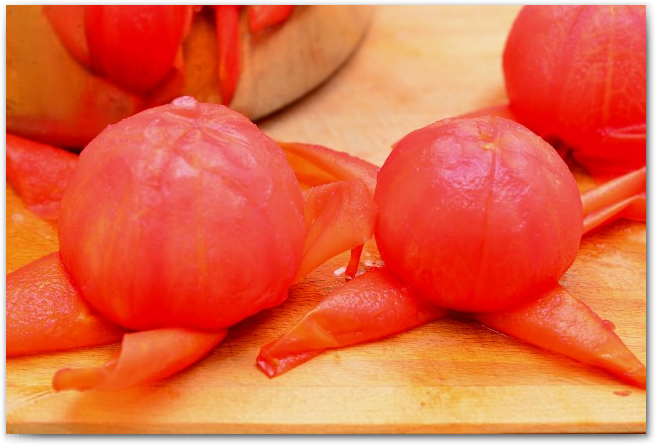 4. Coarsely chop up all the vegetables and put them in a blender: tomatoes, cucumbers, peppers, onions, garlic, vinegar, bread crumbs, and 1 teaspoon of salt. I used a hand blender, which is usually much more convenient and faster.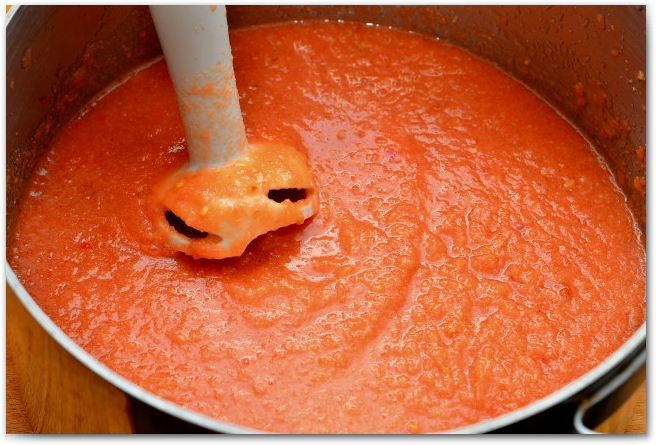 5. Then, gradually, in small amounts, add the olive oil, beating it as you add.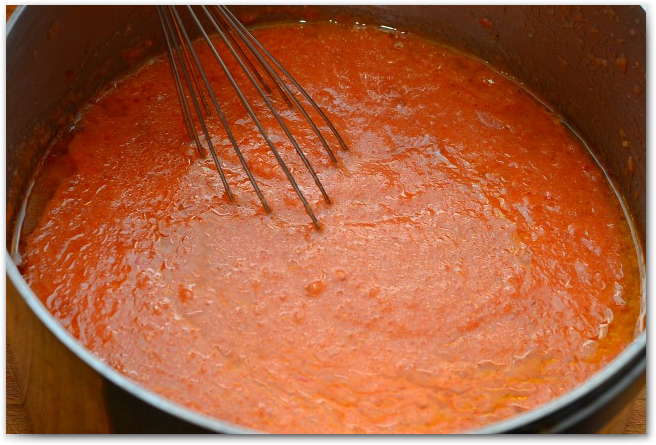 6. Check the soup for salt and pepper. If necessary, add a little vinegar (the original recipe said to use red wine vinegar, I used white). Check the consistency of the soup. If too thick – dilute it with water or tomato juice. Cover your pot with cling wrap and a lid and put in the fridge for at least two hours.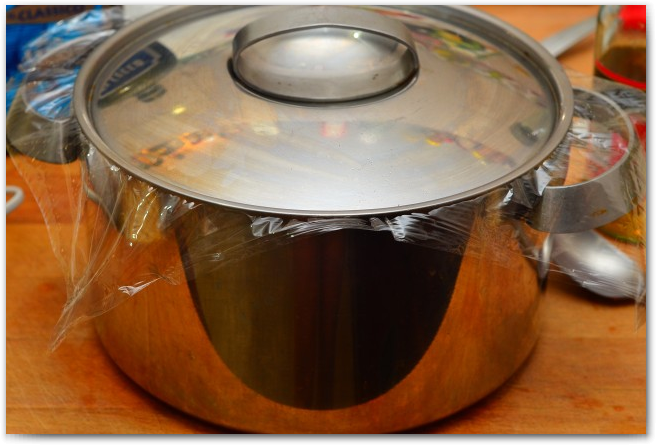 7. In the meantime, you can make the croutons. Cut bread into cubes, sprinkle with olive oil, and bake in a preheated oven for half an hour. I preheat the oven very hot, but when I put in the croutons, I turn it back down to low heat.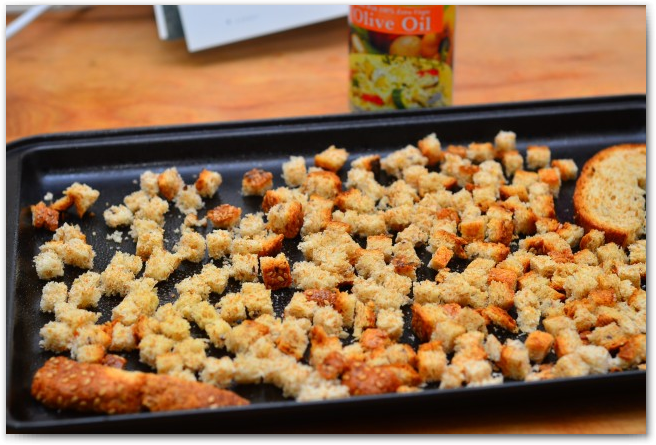 8. For garnish finely chop the cucumber and the green pepper.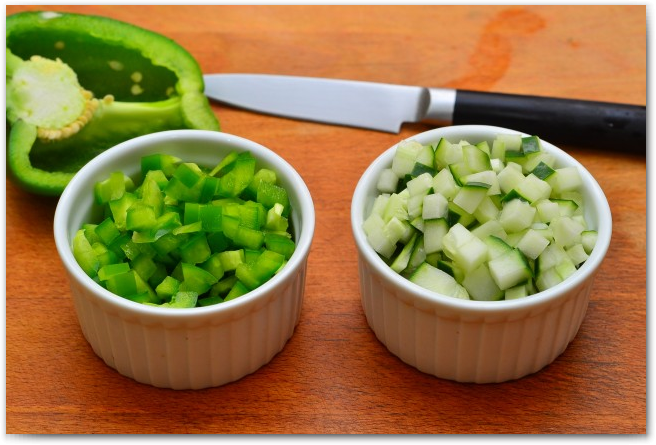 9. Voila! Your refreshing Spanish tomato soup is ready! Before serving, add two or three ice cubes to the soup to cool it down some more. As you can see, making this soup is easy, fun and a joy. Plus, it is a very low-calorie soup, which is very important in hot weather.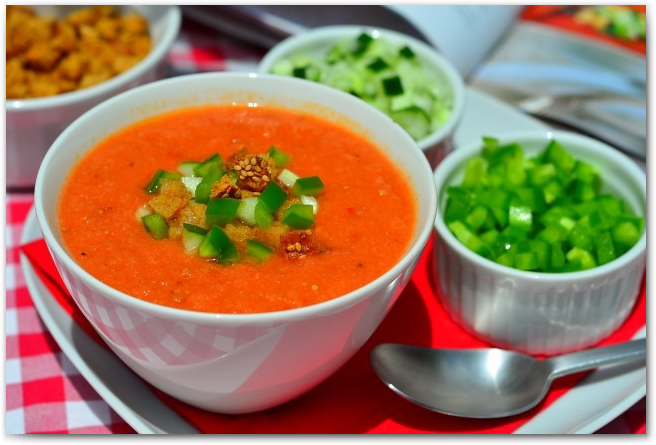 Bon Appetit!